Although the Pansy Sampler, is not the first quilt in which I've done free motion quilting, it is the first in which I decided to be brave enough to experiment, test my limits, try new patterns. A sampler quilt is a good vehicle in which to do this, because the variety of blocks offers different challenges.
As of the taking of this photograph, all but two blocks are complete. Still have a number of purple frames to quilt, about half the sashing, and all of the external borders.
(Click on any photograph to see more detail. The blogger resizing has taken out much of the texture.)
I had one picture block in the quilt ~ this Sunbonnet Sue. I cannot take credit for the block itself; many of the blocks came in a block exchange, and Sunbonnet Sue was one of them. I saved quilting this block for near the last, in order to improve my accuracy enough to do the block justice. I quilted around each of the stones in the wall, each of the squares in the trellis, and all of the pansies.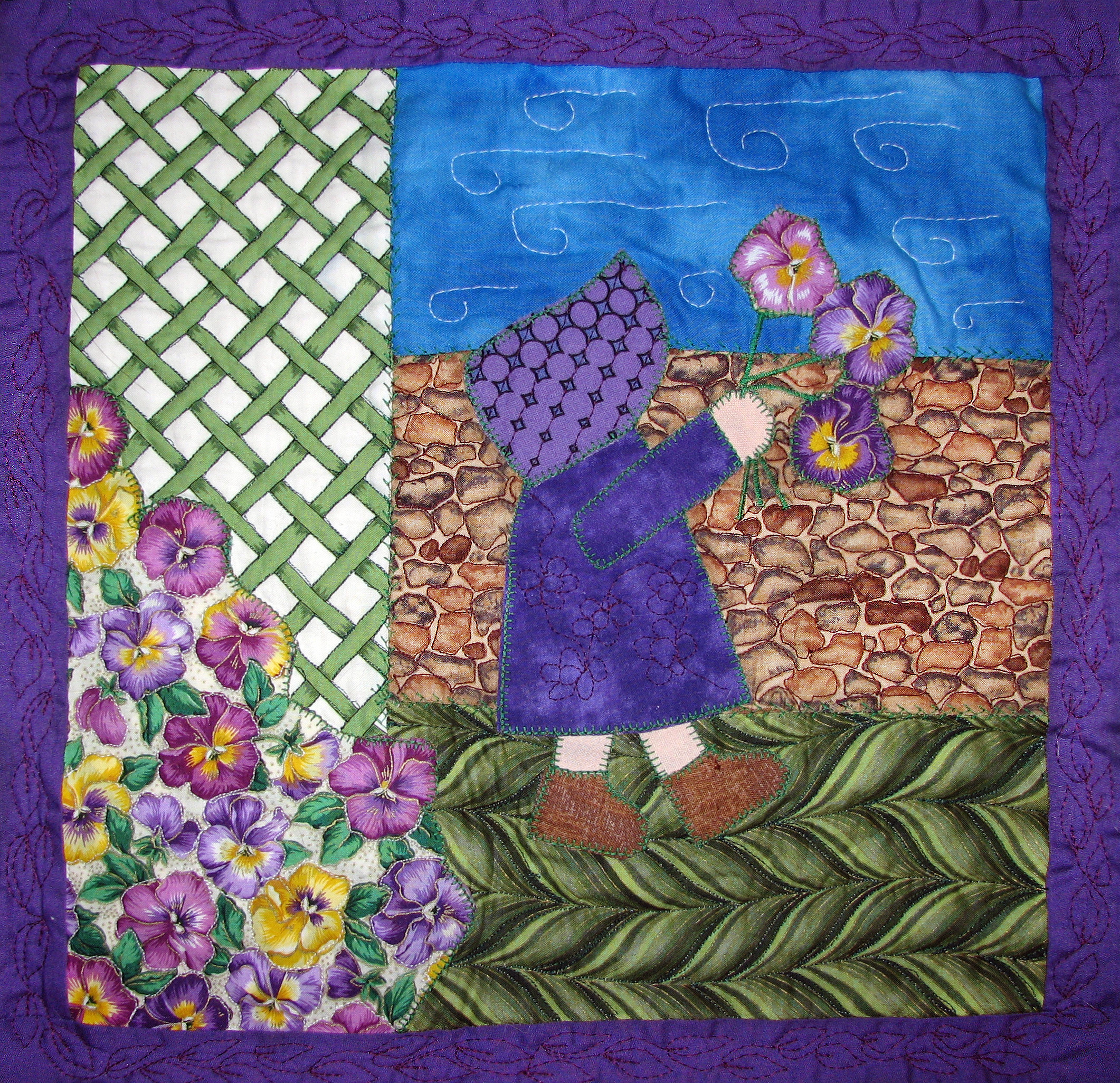 Quilting on the pansy fabric itself has proven to be a challenge. The largish print tricks my eye and prevents me from making accurate arcs, etc. This block shows my attempts at making a quilted "flower" on the largest section of pansy fabric. It is less than stellar. Although I've tried a variety of things, quilting around the individual pansies has looked the best. It's not difficult to do.
I've done free motion leaves in all of the purple frames. It's a good FMQ design to use, as it's quite forgiving. However, practice really does make perfect. Despite being a forgiving design, over the course of the quilt, my skill with this pattern has increased markedly.
It is in this block that I tried pebbling for the first time. I often study
Wendy's work
for inspiration. Much of what she does is too far beyond my capability, but pebbling was not. I was very pleased with the result.
My favorite quilting motifs are the symmetrical designs as shown in the purple sections below. They are also the most difficult to do. The interesting thing is that I've noticed when I merely glance at this block, I think the quilting looks pretty nice. However, if I stop to study it, then I see all of its flaws ~ and there are many.
The morning that Eric took all of these pictures for me, Molly Baggins could not help but walk across the quilt ~ usually on the very block he was trying to photograph. Finally, she chose a spot and made herself comfortable.