Gag Quilting:
When I posted on the
Maple Leaf Table Topper
, my wise-ass cousin-in-law, and best friend, Eric, commented thusly:
I'm thinking even that's too big. Can you quilt me a single coaster? Thanks!
You can imagine how snickered, as I created this: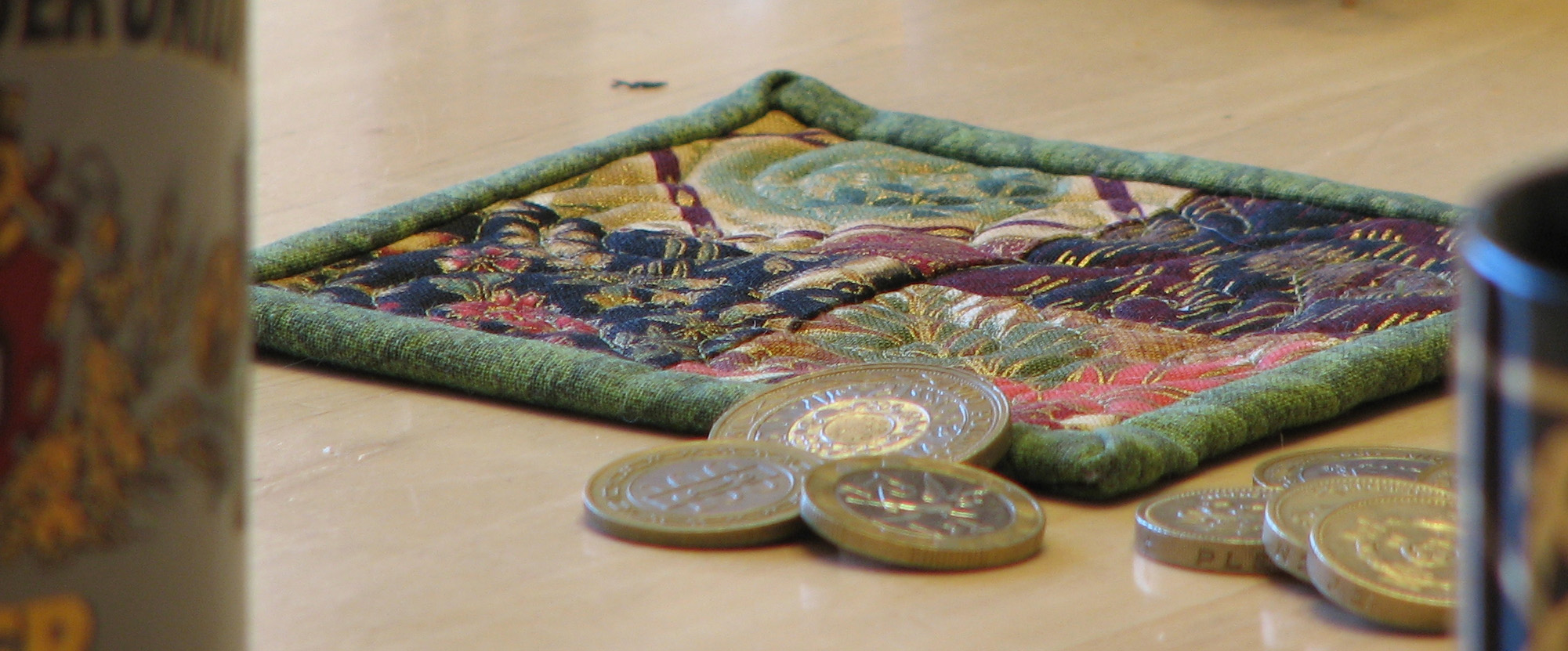 (Thanks for the picture, Eric!)
It was a quick process. Eric had so enjoyed the Asian themed fabrics in
my mom's latest quilt,
that choosing fabrics was a no-brainer. Since the project was quite small, I merely raided her scrap bag. Then, I snickered some more. The whole thing probably took an hour, and most of that was hand-sewing the binding down on the back. And I snickered as I stitched. (Are you sensing a theme here?)
I snickered when I surreptitiously laid the coaster on Eric's keyboard while he was away from his desk. And I laughed out loud when he came out of his office carrying the coaster, giggling, and saying, "I can't believe you did this." The coaster now sits on his desk amongst other interesting treasures, which he blogged about
here
.
Joann's:
Made the trek to Joann's at the Town West Mall yesterday morning. Normally, I would avoid the mall on the weekend after Thanksgiving. I have no urge to deal with the crowds. However, I needed some supplies to finish some Christmas gifts, so what was a quilter to do?
Fortunately, the crowds were not too bad (maybe they'd all shopped themselves to death the day before?) and the sales were great. No, not just great, fan-freakin-tastic is more like it. I came out of the store with 7 1/2 yards of quality fabric for $19. $2 off per yard Keepsake Quilting fabric; 75% off end of the bolt fabric (I picked up nearly an extra yard with this deal), and 25% off the total price coupon. Do I feel like the cat that swallowed the canary? You bet!
I was so blown away with my savings, I blew off the gym too. My cousin, Shirley, said I could justify it by having "weight-lifted" bolts of fabric. I love her! (And really it's okay, because I hit the gym on Sunday and redeemed myself.)