This wash stand is another piece I inherited from grandparents when they downsized. It originally belonged to my great, great grandparents (or if it belonged to anyone before them, we don't know about it). Like the
Hays House dresser
, my grandfather rescued, repaired, and refurbished this lovely piece of furniture. It came to my grandfather through his parents who also used the wash stand in their own home for some time. One day, my great grandmother asked my grandfather to haul it to the dump. Instead, he took it home, and that's how it came to be in his possession.
When my grandfather got the washstand, it did not have the towel bar. Whether it originally had a towel bar, we don't know. However, my grandfather felt it was incomplete without one, and added it several years after he'd refurbished the piece.
I love the curved lines on this piece, both on the towel rack, and the feet. The casters on the feet, make the washstand easy to move. (Wish more modern furniture had this feature.)
There is lots of storage space in the drawer and down below, where I keep my vintage quilts. (However, that will be a separate post for another time.)
I'll be linking up over at the
Colorado Lady's
blog for Vintage Thingie Thursday. Wander on over and see what everyone else has to share.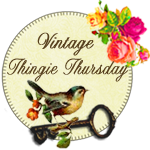 border="0"/>