Coming Together:
The New York Beauty quilt is coming along. I'm currently hand-piecing the quarter blocks together to make the circular design evident in the picture below. I imagine I will hand-piece the entire quilt. It gives me better accuracy. However, when it comes to quilting it, I intend to reacquaint myself with my long-neglected Juki.
Taos, New Mexico Part 1:
Taos sits at approximately 6,900 feet and is well known for being relatively close to several wonderful ski slopes. Not a consideration in the summer, but none of us ski anyway. That said, Taos was a place we'd never been before, and seemed like a great escape from the summer heat of Texas. We were not disappointed. The daytime temperatures rose to the mid-80's and the night time temperatures hit the mid 40's. Low humidity.
Nearly all of the buildings in Taos are adobe. Not just the houses, but the businesses as well. I was struck by how well the adobe buildings blend into the environment.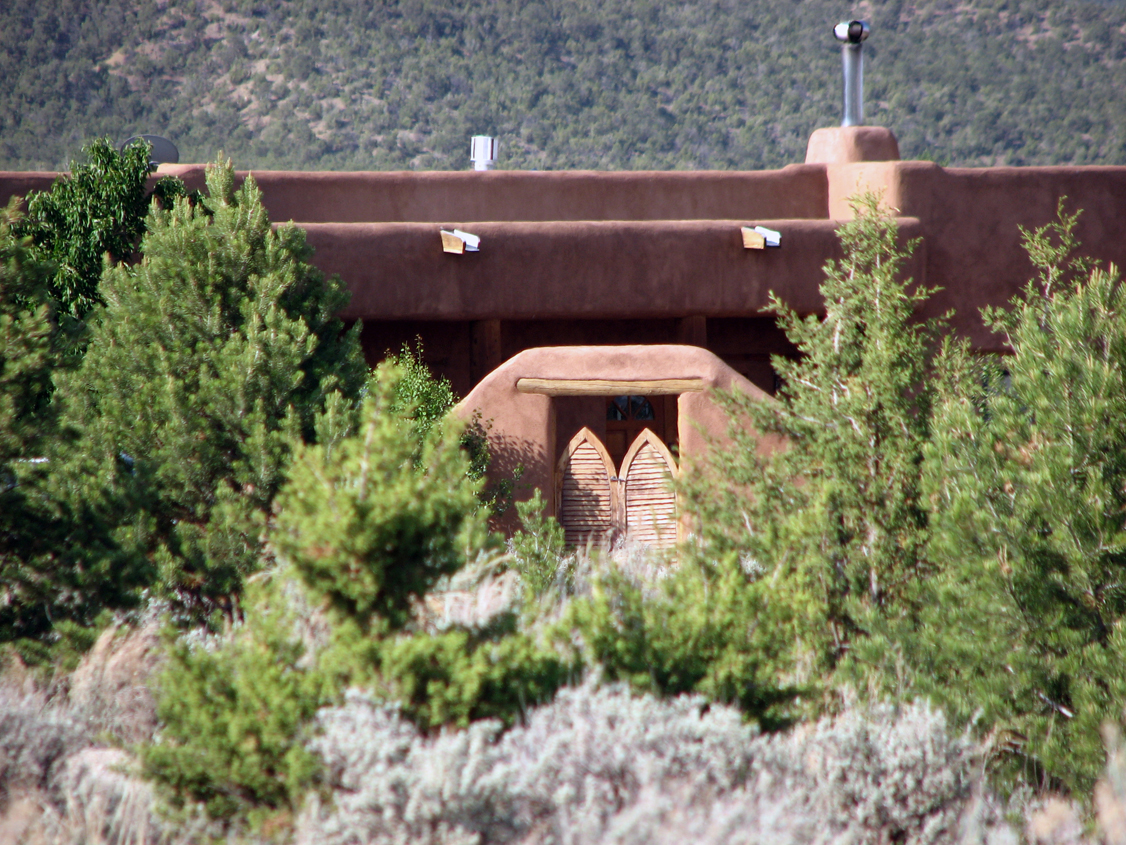 Juniper House, Taos, New Mexico
This is the vacation home we rented. Honestly, the price wasn't much more than you'd pay for a decent hotel, but instead of having a room or suite, we had a whole house.
Myself and Lori in our cheap Wal-mart hats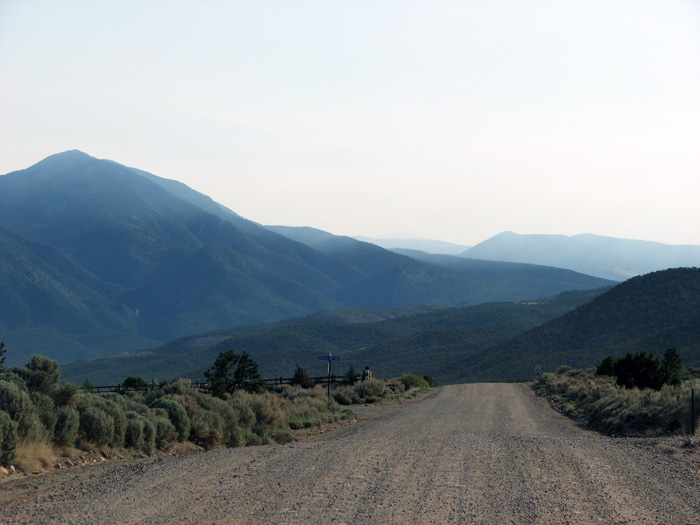 Juniper Street
We took an amazing walk around the neighborhood, reveling in the glorious weather. The houses here sit on the edge of town.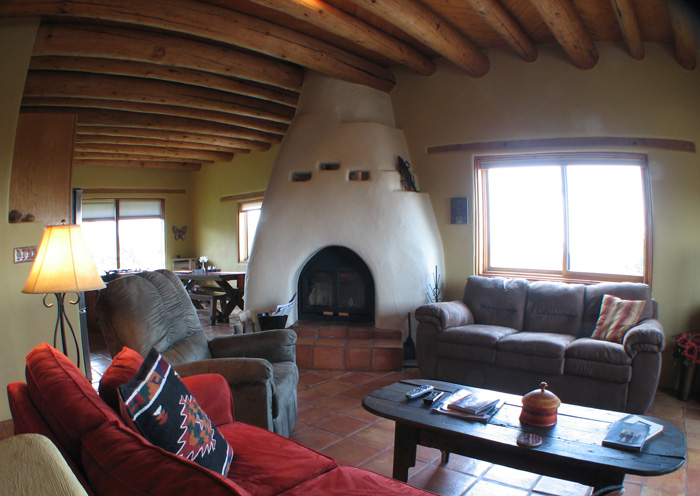 Juniper House, interior
We all enjoyed the Southwest architecture and interior design.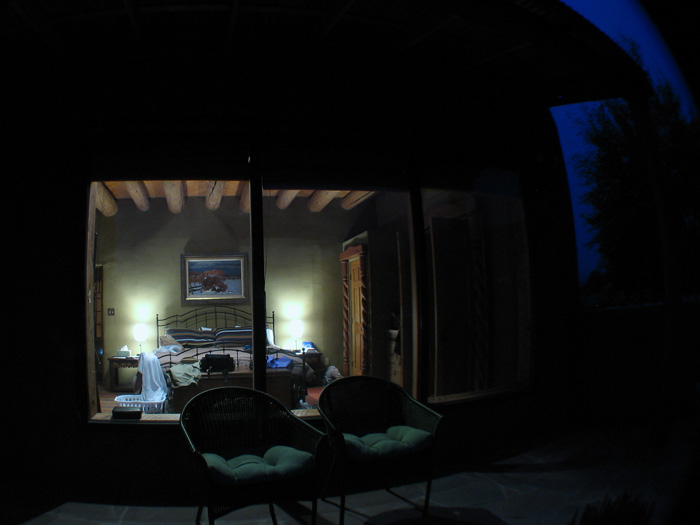 The entire back of the house contained floor to ceiling windows. Here's a shot of the master bedroom from the outside.
The windows looked out on a beautiful backyard: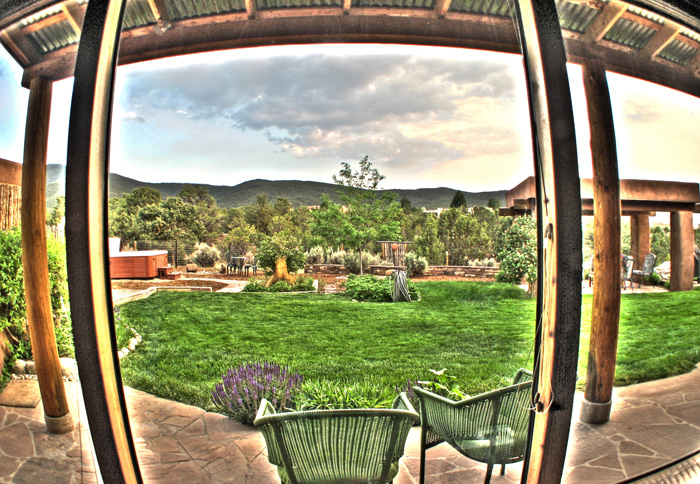 Eric photo-shopped this picture to resemble a painting.
We spent time a lot of time enjoying the desert air sitting under the ramada, making use of the grill. It is the shelter you see in the background at the mid right. If you look carefully, you'll note the hot tub in the mid left. Mango Margaritas are a perfect accompaniment to hot-tubbing. Ahem. :-) We made them in Solo Cups. Class all the way!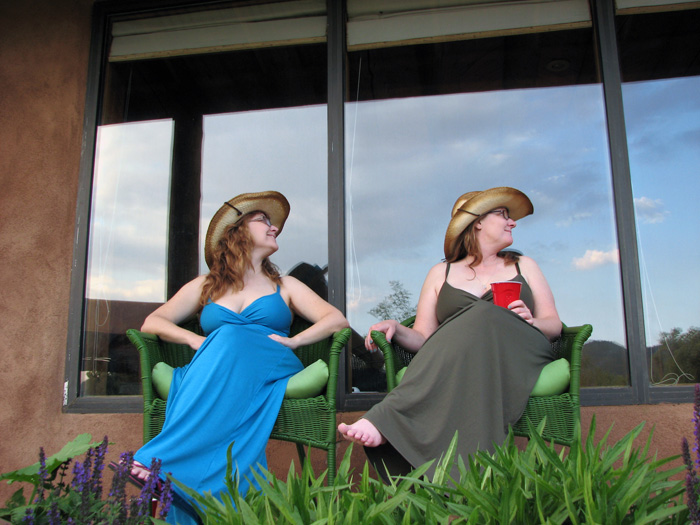 Myself and Lori, looking at the reflection in the windows
My thanks to Eric for doing the photography on this trip, and allowing me the use of his pictures on this blog.
Eric
Next time: Taos Pueblo